Custom Portrait from the paintings of Gustav Klimt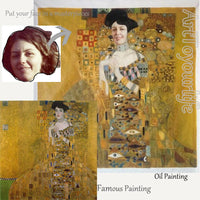 Gustav Klimt (1862--1918), born in Vienna, is a well-known Austrian symbolist painter and master of Separatist painting. His work absorbs many artistic elements of ancient Egypt, Greece and the Middle Ages, and combines the planes that emphasize contour lines with the planes of classicist mosaic paintings to create a unique and infectious painting style. His early works basically adopted traditional expression methods, characterized by rigorous shapes and strong colors. After the establishment of the Separatists, they explored a combination of decorative and symbolic expression styles.
Klimt was born to a goldsmith family in Vienna. His father was engaged in gold and silver carving and copperplate crafts, so he accumulated a lot of knowledge about traditional handicrafts and mosaic paintings since he was a child. In his early years, Klimt received orthodox academic training, and later became an architectural decorative painter. He introduced the decorative interest of mosaic paintings into paintings, using "peacock feathers, snails, gold and silver foil, snail shells, calyx, color or gloss" to create a "painted mosaic" painting, Painting and craftsmanship have reached their extremes. Combining traditional craftsmanship with modern art, Klimt created his own unique artistic style.
Klimt is loved by the world for his golden and lustful works. In his works, female nudes convey a strong sense of sexuality and naked erotic themes. Look at the era background:
At the end of the 19th century, the Austro-Hungarian Empire was shrouded in a declining "end-of-the-world" atmosphere. As the capital of the Austro-Hungarian Empire, the influx of large numbers of immigrants and the widening gap between the rich and the poor also lost their peace and prosperity This romantic city that once aroused many people was famous for eroticism and indulgence. Freud's psychoanalytic school has deeply influenced modern intellectuals, and the literary and artistic world has set off waves of direct depictions of sex and violence. In classical painting, the artist depicts the female body mostly to highlight the beauty of the human body, while in modernist artistic creation, the artist is more to raise painting to reflect on life and philosophy.
In Klimt's paintings, the human body is distorted, slender, and deformed, showing a slightly decadent beauty. Except for the face and naked body, the costumes of the figures and the background of the entire painting are filled with abstract geometric patterns. The whole picture is filled with strong abstraction, symbolism and mysticism. But under the splendid appearance, I can always see the depression, sadness, silence and despair of the people in the painting.
Klimt's creative themes often revolve around the fate of love, sex, life and death. It is said that there are always many beauties in his studio. He never let the models sit in a concave shape like other painters. Instead, he gave them food and wine and made them happy to capture their joy. Look, and sometimes, he also wears a robe and participates ... so some people call him "a brilliant wandering genius."
Most of Klimt's works are gold and beauty. In fact, he has a strong foundation. As mentioned earlier, he has received an academic orthodox education.